This page is dedicated to the Noise Goddess,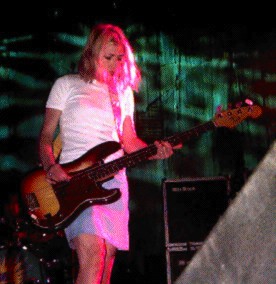 Kim Gordon-Moore
of

Free Kitten is:
Kim- guitar/vocals
Yoshimi- drums
Mark- bass
Julie- guitar/vocals


SoNiC YoUtH is:
Kim- bass/vocals
Thurston- guitar/vocals
Lee- guitar/vocals
Steve- drums


Free kitten, formed in about the mid 90's, came about as Kim Gordon's side project from she and her Husband Thurson's band Sonic Youth. They are on a beautiful indipendant label called Kill Rock Stars along with bands like Sleater Kinney, Bikini Kill, and the PeeChees.
like the others on this label, Kim's vocals are a little hard to swallow at first but they tend to grow on you like a cancerous mole, boaring into your very soul.
if you're ready to handle it, i suggest a few albums like SonicYouth's Washing Machine, and Free Kitten's Sentimental Education. The Free Kitten disk is cheap($10) and you can get it from Kill Rock Stars, so, go there and ORDER!!!!